Jakob & Henrik Ingebrigtsen Form Comparison
18 August 2022 | Category: Running Technique Advice
This is just a very short breakdown of an interesting clip from Instagram (courtesy of @jakobing) showing the the Ingebrigtsen brothers jogging in training, and provided an interesting avenue for comparison of the form.
One brother is an Olympic and World Champion.
One has been injured frequently.
Both Jakob (middle) and Henrik (right) are elite athletes. Unfortunately over the journey Henrik has dealt with many more injuries.
Looking at the comparison between the two we can see how much more steady and controlled Jakob is through his torso. The position he is in through his spine is much more neutral than Henrik and therefore placing less load into his back.
Looking closer at the leg patterns of the two, Jakob has much more upper leg drive or femur swing compared to Henrik. Henrik is using more lower leg to create power. Interestingly they are taking the same length of stride and cadence but Henrik's legs look to be working at a faster rate due to the increased lower leg use.
There is a whole lot more lateral movement and rotation through Henriks's entire body as well.
Funnily enough, all three brothers have a similar unique right arm pattern of movement. Filip moves a lot more like Jakob, but with a slightly increased lower leg use.
All three athletes are World Class, with Jakob Ingebrigtsen the reigning World Champion over 5000m, and Olympic Champion over 1500m.
The clip is also a demonstration of a couple of other topics we talk about regularly, one of which is how nice the sound of running on a natural surface can be, read more about how the sound of running can contain clues for injury prevention. The second is how the slower pace is a smaller movement of the same pattern of running, and you can see Jakob's smooth and powerful movement even at this pace, but in a smaller range of motion.
Check out more articles, podcast appearances and running technique tips: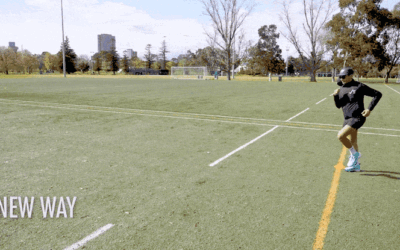 Cadence in running is so poorly used and in most cases poorly understood.For those wondering, cadence is the number of steps taken within a minute. It is an outcome…
read more